NAME: Carrie Vaughan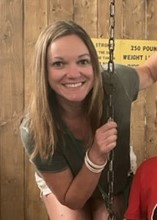 CLASS: 3rd grade
CLASSROOM: 2411
Get to know Ms. Vaughan
I am proud to be going into my 18th year teaching 3rd grade. I live here in Holly Springs, via Wilmington, NC and Alexandria, VA and have enjoyed watching this town grow. My husband Matt and I spend lots of time following our beloved Carolina Panthers, Virginia Tech Hokies, and Boston Celtics. We also stay busy with our 6th grade son Brooks and 2nd grade daughter Charlie. I love bargain shopping, listening to records, yoga, iced coffee, football, reading, and classroom technology tools! Sharing my love of learning with students is my passion, and I want them to be enabled to share that learning with the world. In June of 2023 I started learning Spanish and I hope to be fluent by next summer!
My Favorites 🙂
Snacks: Beef sticks (Chomps brand is the best), almonds, Quest Peanut Butter Cups, Diet Sun Drop, Iced Coffee with 1 cream, Twizzlers, and sour candy

Shopping spots: Target, Amazon, The Wardrobe Boutique

Teacher supplies: Teachers Pay Teachers gift card or anything from the Amazon wishlist

Restaurants: Tazikis, ChicFilA, Vieni

Color: blues and greens
Philosophy, Expectations and Goals
FOR STUDENTS: All students can learn when they use the tools and opportunities that they are given to help reach and exceed their potentials.
Improve listening skills and communication skills
Increase independent thinking (critical and creative)
Develop cooperative learning strategies
Take initiatives to learning
Display courteous and responsible behavior
Increase self-confidence and self-reliance
Take responsibilities for one's own work, action and behavior
AS A TEACHER: My goal is for each student to experience success in an enjoyable and challenging educational atmosphere
Believe all students can learn
Recognize dignity and worth of each child
Provide a rich environment for students which fosters respect for oneself and others; academic, physical and mental growth; and critical thinking skills relevant to real world situations
Optimize instruction to meet the needs and enrich the strengths of each child
View education as a partnership between the teacher, student and parents